56 Couples 95 Crew 5-Star Service Inclusive
"It's yachting, not cruising" Enjoy the difference. SeaDream Yacht Club is different from big ship cruising. Our philosophy of casual perfection runs through everything we do. With only 56 couples being pampered by an award-winning crew of 95, the level of attention and service we pay to each of our guests makes yachting aboard either one of our mega-yachts SeaDream I or SeaDream II feel as if you are on your own private yacht. Be as active or as relaxed as you like and take in the ultimate in luxury, privacy and pampering.
Short Introduction
Are you new to SeaDream? Here is a short video that will introduce you to the unique and luxurious SeaDream Yacht Club experience.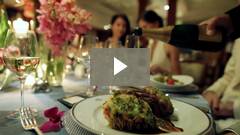 If you would like a more detailed video, please click here to watch our main video .
SeaDream top rated by Berlitz 2013
The 2013 Berlitz Guide to Cruising & Cruise Ships being released this month, announced that the 112-guest mega yachts SeaDream I and SeaDream II have again achieved the top two ratings in the 'Boutique Ships' category (50 – 250 passengers). The Berlitz Guide, now in its 28th year, is researched and written by Douglas Ward, the world's top authority on cruising and cruise ships. Having reviewed 284 cruise ships, Ward has named the top-rating ships for 2013, with the 10 most highly rated being officially 'small' or 'boutique'. The SeaDream ships' ratings out of a possible 2,000 points are: SeaDream II – 1,788 points and SeaDream I – 1,786 points.
Read more about the Berlitz Award.